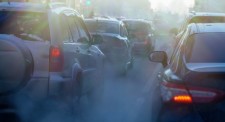 A recent study demonstrates that air pollution is connected with higher rates of oral cancer. Ozone and fine particulates (below 2.5 microns) are especially concerning. Oral exams help catch oral cancers early.
SACRAMENTO, Calif., March 28, 2019 (Newswire.com) - The Sacramento area is, unfortunately, one of the most polluted cities in the United States. The California capital ranks in the top ten for ozone pollution and the top 20 for particulate pollution, according to The Sacramento Bee. These two categories are especially concerning, because this high amount of pollution may lead to an increased chance of developing oral cancer.
Small Particulates are the Problem
A recent study conducted in Taiwan found that the risk of contracting oral cancer is related to high levels of air pollution exposure. Both high ozone and large amounts of fine particulates were connected by the research with increased oral cancer rates in Taiwanese men. Other factors, like tobacco use, were added into the study's calculations so that pollution was the main consideration.
Although Sacramento's ozone concentrations are better than the typical Taiwanese city featured in the study, air quality in the category of fine particulates was approximately the same. This situation should encourage all citizens of Sacramento to take one aspect of their health regimen very seriously, and that is their semi-annual visits to a dentist for an oral exam.
Dentists Check for Oral Cancer
Every oral exam conducted at the Sacramento Dentistry Group features an examination for oral cancer or other abnormalities of the throat and mouth. Some of these examinations are conducted with advanced VELscope technology that makes it easier for medical professionals to detect early stages of cancer. By monitoring for the early stages of oral tumors, lesions and cysts, dentists and hygienists help prevent the complications that come from a late diagnosis of these abnormalities.
To schedule an oral exam with the Sacramento Dentistry Group, contact them online or by calling 916-538-6900. Patients may also visit their downtown office at 1105 E Street, featuring readily available parking.
Source: Sacramento Dentistry Group
Share: