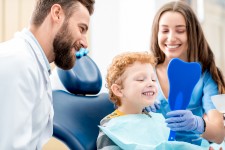 Congress recently passed the Action for Dental Health Act. A major provision of this act is the promotion of the dental home concept. What is a dental home and how do people find one?
Sacramento, CA, February 27, 2019 (Newswire.com) - Recently, Congress passed the Action for Dental Health Act (ADHA). One of the provisions of this act is that every citizen should be encouraged to have a "dental home." What is a dental home, and where should people find one? As a local dental practice, the Sacramento Dentistry Group wants to help increase awareness of this feature of the ADHA.
The Dental Home Defined
The American Academy of Pediatric Dentistry is one of the primary champions of the dental home concept. The cornerstone of this idea is that everyone, starting from childhood and continuing through adolescence to adulthood, should have a place they regularly go for quality dental care. This is not just to perform reactive medicine, fixing problems like cavities as they arise. Instead, the dental home provides preventive care in an effort to avoid costlier procedures and dental repairs. This saves time, money and hardship for families and individuals.
Providing a dental home requires a full-service dental office that can assist with all ages and dental demands. Pediatric dentistry for children starts the services, and restoration procedures like dental implants or dentures helps patients maintain their oral health and wellness in the later years of life. The Sacramento Dentistry Group is one such dental practice and accepts patients in all stages of their need for a dental home.
For more information about how to select a dental home and the types of procedures available at a full-service dental group, visit the website of the Sacramento Dentistry Group.
Source: Sacramento Dentistry Group
Share: